Syracuse University is conducting a comprehensive survey of all students, faculty and staff. The survey period has been extended, so there's still time!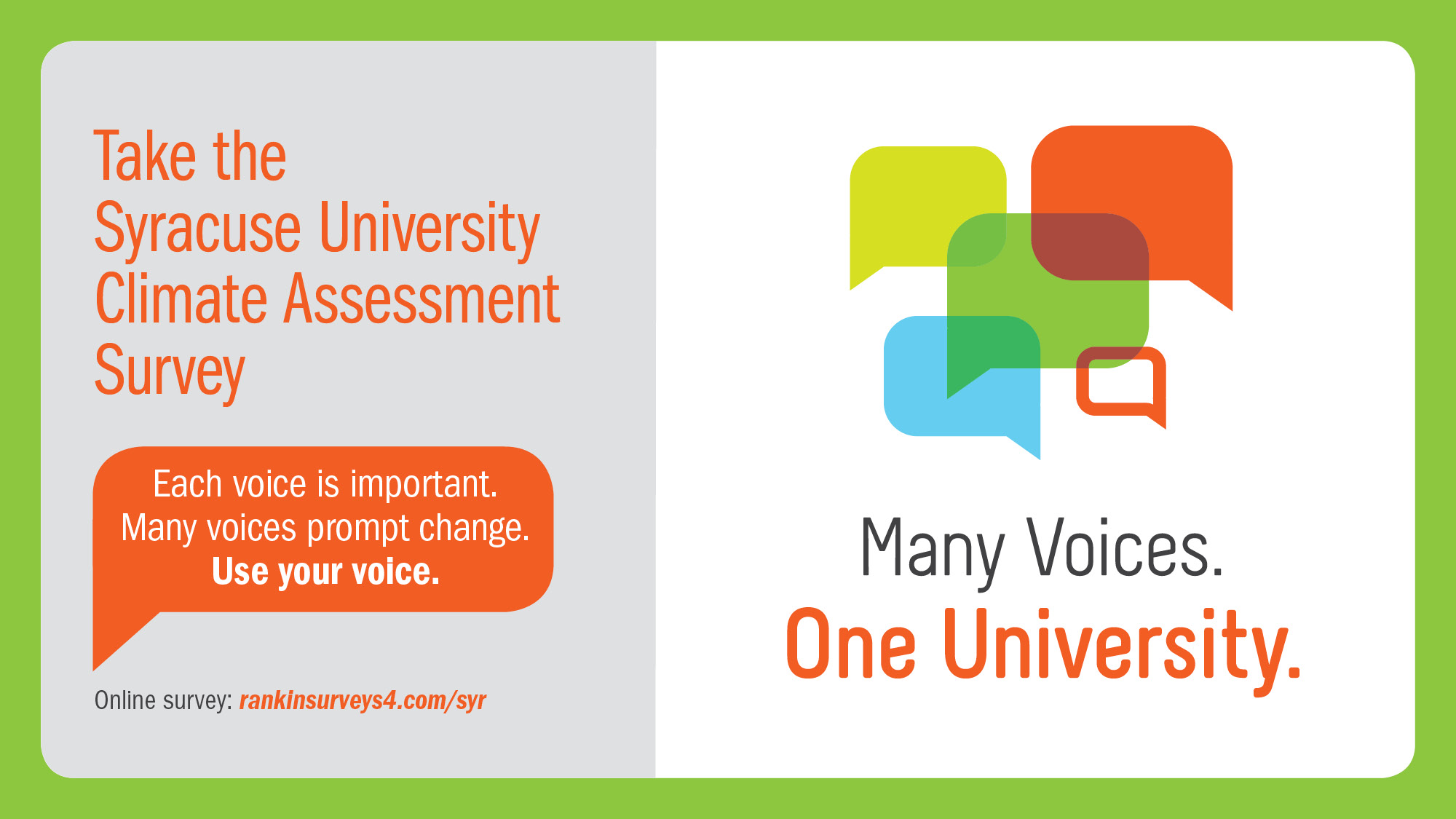 The survey can be completed online  and is available in Spanish as well as English. Participation is voluntary and confidential; no information will be collected that personally identifies respondents.
For those who wish to complete a paper-and-pencil version of the survey, copies are available at the information desks in the Schine Student Center, the Goldstein Student Center and the Nancy Cantor Warehouse.
The survey is vitally important because data from it will help inform future plans to foster a more inclusive learning, living and working environment at the University.
The survey takes 20 to 30 minutes to complete. You may skip questions, but you must answer at least 50% for your responses to be included in the final analyses. Some questions are for students. Some questions are for faculty and/or staff. Some are for all.
At the conclusion of the survey, you may follow a link from the online survey to a separate website (on the paper-and-pencil version the URL website is listed) to submit your name, syr.edu email address and/or phone number to enter a drawing for one of many survey awards (gift certificates and other items). In providing your contact information on this separate website, you are in no way linked or identified with the survey information you have submitted; your survey responses remain confidential.
The survey is administered by Rankin & Associates, an outside consultant that has been working with the 14-member Climate Assessment Planning Committee—composed of undergraduate/graduate students, faculty and staff—to create the survey's content.
Survey data will be collected and stored on a secure server hosted by Rankin & Associates. After analyzing the data, the consultant will prepare a report of results that will be presented to the University in fall 2016 and will inform the development of strategic actions that will begin to be implemented in 2016-17. All stakeholders—students, faculty and staff—will be invited to participate in the development of post-survey action initiatives.
For more information, check out the survey FAQ.