Please join us for the Campus Update sessions on Thursday, Oct. 27, or watch the live stream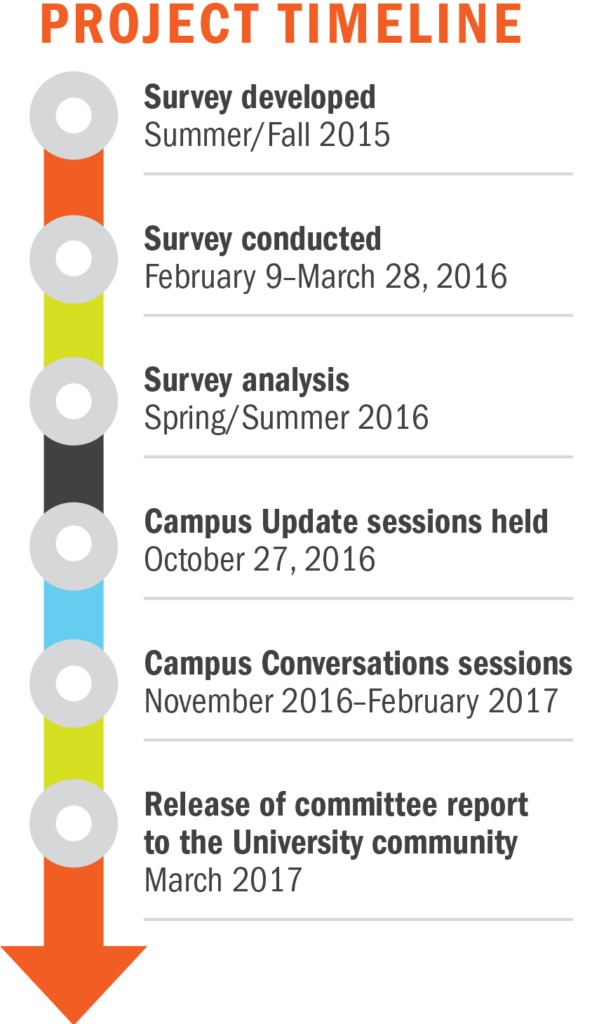 The Climate Assessment Planning Committee (CAPC) is hosting a pair of Campus Update sessions on Thursday, Oct. 27, to present the results of the comprehensive survey on the learning, living and working environment at the University that was completed last semester by nearly 6,000 students, faculty and staff members.
Open to all members of the campus community, the sessions are from noon to 1:30 p.m. and from 4 to 5:30 p.m. in the Joyce Hergenhan Auditorium in Newhouse 3. American Sign Language (ASL) interpretation and Communication Access Realtime Translation (CART) will be available at both events. For questions about accessibility or to request accommodations, please contact the Equal Opportunity, Inclusion and Resolution Services (EOIRS) office at 315.443.4018. The second session will also be live streamed for those who cannot attend in person; the stream can be seen here beginning at 4 p.m.
In advance of the sessions, you are invited to read the survey executive summary [PDF, 235KB]. Upon the recommendation of the project consultant, and to preserve integrity of the data, the executive summary and full report are presented as encrypted documents and therefore cannot be printed. The summary is ADA compliant and may be viewed through a screen reader.
In the Oct. 27 sessions, project consultant Susan Rankin of Rankin & Associates will lead a presentation on the survey findings, and SU Senior Vice President and Dean of Student Affairs Rebecca Reed Kantrowitz (CAPC co-chair) will discuss next steps.
These next steps include making the full survey report available on MySlice and conducting a series of Campus Conversation open meetings late this semester and early next semester that, along with an online feedback form, will give students, faculty and staff more opportunity to offer input on the topics covered in the survey, which will aid the committee in preparing its final report and recommendations.
View Syracuse University's Vision and Mission Statements 